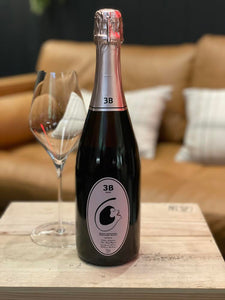 Sparkling Rosé, Filipa Pato "3B" NV
Regular price $23.00 Sale
Portugal is home to a plethora of indigenous red grape varieties and Baga is perhaps most poised for success of all of these. Naturally high in acidity, tannins, and yield, Baga has historically been a major component of Mateus and other bulk wines. Luis Pato was one of the first winemakers to champion the variety and focus on making quality expressions, and his daughter Filipa is now one of Portugal's brightest stars.

Filipa and her husband William Wouters give their sparkling wine the moniker "3B" due to Baga, the white grape Bical, and Bairrada, their home region. It could receive a fourth B due to being biodynamically farmed. Redolent of violets, blueberries, and cinnamon, it's an entrancing and seductive wine and a perfect match for tomato bisque. Plus, you can't beat the price for summertime stocking up. Zero dosage.
Must be 21 years old to purchase. ID is required at delivery or in-store pickup.