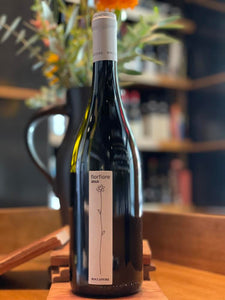 Grechetto, Roccafiore "Fiorfiore" 2019
Regular price $40.00 Sale
Grechetto, as mundane as it may seem, is in somewhat of an identity crisis. Both Grechetto di Todi and Grechetto di Orvieto are the names of appellations in Umbria and also distinct varieties. The problem is even many producers in those appellations don't know which variety they have planted. In fact, the official outline of DOC Grechetto di Todi only specifies "Grechetto" as a minimum of 50%, but doesn't make a reference to either one in particular.
Luca Baccarelli of Roccafiore is certain he has 100% Grechetto di Todi, which is generally considered the superior variety. His family cares deeply about sustainability and preserving their ability to make wines, fueling their tractors with sunflower oil, making use of biodynamic practices, and using a special type of light glass in their bottles to reduce their carbon footprint. Their "Fiorfiore" bottling is zippy and full of energy and a green flavor profile- zucchini, kiwi, lime, and green bell pepper.
Must be 21 years old to purchase. ID is required at delivery or in-store pickup.