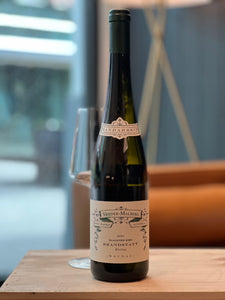 Riesling, Veyder-Malberg "Elsarner Ried Brandstatt" 2021
Regular price $175.00 Sale
Quite simply, Peter Veyder-Malberg is making some of the most exquisite and distinctive wines anywhere in the world. He spends his time having full on conversations with the mushrooms and mycorrhizal fungi that live in his vineyards. It might seem quirky, but it highlights the attention to detail and slight craziness required to make wines that we consider as good as any from any other iconic region. And the Wachau is no slouch in that regard, a UNESCO heritage site about an hour west of Vienna. 
Riesling from Ried Brandstatt is an interesting comparison to the Ried Buschenberg that we also offer. They're both grown on mica schist and Brandstatt was planted with vine cuttings from Buschenberg, but after those similarities they're totally different. Brandstatt is aged in oak vs. the acacia of Buschenberg, and is located in Elsarn rather than Weißenkirchen. Elsarn is in the Spitzer Graben, the westernmost and coolest part of the Wachau, and often considered home to the best wines from the region. Brandstatt was mostly abandoned when Peter purchased it in 2009 but has become one of his iconic bottlings. The 2021 is fiercely idiosyncratic, pulling up flavors of lime zest, Pringles, and wheat beer. Tingling acid drives a prolonged and savory finish. An extraordinary wine.
Must be 21 years old to purchase. ID is required at delivery or in-store pickup.