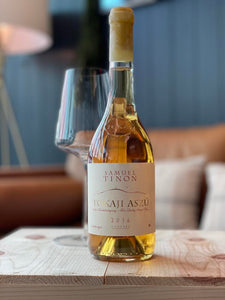 Tokaji Aszú, Samuel Tinon "5 Puttonyos" 2016
Regular price $88.00 Sale
Samuel Tinon was one of the first foreigners to settle in Tokaj after Hungary's… ahem… political changes in the early 90s. A native of Sauternes he's no stranger to great botrytized wines. When Samuel moved to Tokaj in 1991, most producers in Tokaj were eager to use all the new technology that had been unavailable to them for the previous 50 years, whereas he had seen all those changes happen and wanted to return to elemental winemaking. His cellar is modest and the wines are, too. They're also extraordinarily layered.
Tokaji Aszú is one of the great wines of the world. Botrytis is the dominating feature, and the wines are made in a truly painstaking manner- botrytized berries are basically made into a chutney and fresh juice is added to start the ferment, which takes about 2 years to complete because there's so much sugar (~180 g/liter in this version). Samuel ensures the barrels are never fully sealed, so there's a really cool interplay of super-dried-out fruit made in an oxidative style. It's fleshy and cidery, more reminiscent of Raisin Bran than the honey and peaches so typical of Tokaj. Not only is it a stunning dessert wine, its complexity lends itself to being paired with anything spicy or strong-flavored curries or stews.
(500ml)
Must be 21 years old to purchase. ID is required at delivery or in-store pickup.