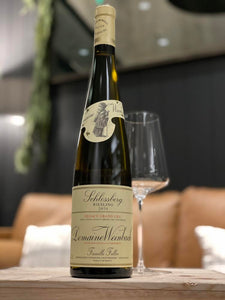 Riesling Grand Cru, Weinbach "Schlossberg" 2020
Regular price $81.00 Sale
Domaine Weinbach, based in Kientzheim in the Bas-Rhine, is one of the premier estates in Alsace. Catherine Faller is now joined by her sons in managing the property.
Schlossberg, also in the village of Kientzheim, is one of the most renowned of the 51 Alsatian Grands Crus. Known for its granite soils, wines from here have a reputation for being delicate, mineral, and nuanced. Weinbach's version is more assertive. It's bold, direct, and uncompromising in personality. Ginger and flowers are the dominant flavors. It's so good now, but if you can resist opening tonight it will only get better over the next 10-15 years.
Must be 21 years old to purchase. ID is required at delivery or in-store pickup.