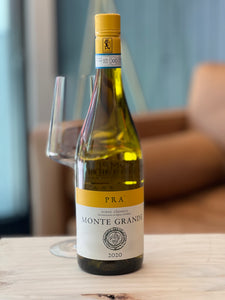 Soave Classico, Prà "Montegrande" 2020
Regular price $36.00 Sale
Unità Geografica Aggiuntiva (UGA) is a newish aspect of Soave to pay attention to. Historically the area has received a bad rap for the blandness of their wines, but most of those neutral wines come from the broad plains with alluvial soils. The UGAs, approved to go on labels with the 2019 vintage, are mostly in the foothills of the Lessini Mountains, which used to be an ancient seabed. In the hills you find a lot more volcanic material and the so-called Scaglia Rossa, a densely stratified clay-limestone marl. 
Monte Grande is one of the 33 UGAs, and many growers refer to it as the "soul" of the whole appellation. Prà has always been one of our favorite producers in these parts, so we were excited to taste the Big Mountain when it came our way. Comprised of 70% Garganega and 30% Trebbiano di Soave (aka Verdicchio), the 2020 was made in a distinct way. The Garganega was picked in September but left to dry on the vine. The Trebbiano di Soave was picked a month later.  Together they create a rich, weighty, and complex white with a dried stone fruit character.
 A wine that will make you reconsider everything you thought you knew about Soave.
Must be 21 years old to purchase. ID is required at delivery or in-store pickup.