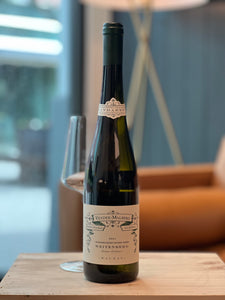 Grüner Veltliner, Veyder-Malberg "Ried Weitenberg" 2021
Regular price $128.00 Sale
Quite simply, Peter Veyder-Malberg is making some of the most exquisite and distinctive wines anywhere in the world. He spends his time having full on conversations with the mushrooms and mycorrhizal fungi that live in his vineyards. It might seem quirky, but it highlights the attention to detail and slight craziness required to make wines that we consider as good as any from any other iconic region. And the Wachau is no slouch in that regard, a UNESCO heritage site about an hour west of Vienna. 
Weißenkirchen is a town in the central Wachau tucked back from the Danube River, and Weitenberg one of its premier vineyard sites, and also one of the warmest in the generally cool region. It's an interesting vineyard site as the soils are comprised of orthogneiss and mica schist rather than the loess typically associated with Grüner, and it was planted in the 1950s with massale selections from elsewhere in the Wachau, meaning each vine is significantly different than its neighbors. Yields are minuscule due to the vine age and poor flowering. 
The 2021 from this site is an impressive wine. It's openly fruity on the nose with a jolting, lively dose of acidity on the palate. It's serious wine that provokes thought and conversation, and will only get better with time. Remarkable. 
Must be 21 years old to purchase. ID is required at delivery or in-store pickup.