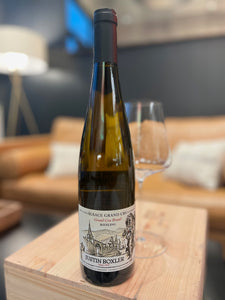 Riesling Grand Cru, Justin Boxler "Brand" 2017
Regular price $52.00 Sale
Boxler is one of the most famous last names in Alsace, mostly due to Albert's line of the family. Justin's is just as storied, though, with a history dating back to the 1600s. Today siblings Charlotte and Florent run the estate, and it's one of the most dynamic operations in the whole region. 
Brand is known for being a warm Grand Cru (its name translates to fire in German), and Boxler's 2017 showcases that in a way that's full but not plump. It reminds us of a marathon runner in its athleticism- lean with stamina and angular musculature rather than impressively chiseled. It's sharp and direct but not unfriendly. Some wines are just a sheer pleasure to drink and this is one of them. Keep your eyes on this producer. 
Must be 21 years old to purchase. ID is required at delivery or in-store pickup.