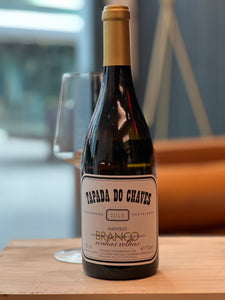 Alentejo Branco, Tapada do Chaves "Vinhas Velhas" 2018
Regular price $125.00 Sale
When making purchasing decisions, we often think in terms of progressions. Does it make sense to have a $200 Chilean wine if the next most expensive is $50? Probably not. But sometimes a wine is soooooo memory-engraving and individualistic and delicious that it throws those thoughts straight out the window. Take the Tapada do Chaves Vinhas Velhas as evidence. Our other Portuguese white wine offerings? A $15 Vinho Verde and a ~$40 bottling from one of the hippest producers anywhere. And it's not like people are knocking down our door demanding more Portuguese whites- quite the opposite, in fact. 
So what's our justification? The wine is spellbinding, first and foremost, with a long life in front of it and an engaging story behind it. The Tapada do Chaves estate was one of the legendary producers in the Alentejo back in the day, but Portuguese dictatorship in the mid-20th century and its purchase by a sparkling wine house at the end of that century let the quality slip. In 2017 the company Fundação Eugénio de Almeida purchased the estate and, led by enologist Pedro Baptista, immediately set about revitalizing the estate. Thankfully they had good material to work with, as the vines for this bottling were planted on their own roots in 1901. The conversion to biodynamics was instantaneous and the newfound focus in the cellar is readily apparent. Made with Arinto, Malvasia Rei, Tamarez, Roupeiro, Fernão Pires, and Alicante Branco grown on granitic soils. We'd normally try to make a comparison for your benefit to try to comprehend these unknown varieties, but it's so singular that would be a fool's errand. It's saline, beautifully aromatic, with a finish that doesn't end. We tasted it at a trade tasting with several wines poured after and had to sequester the glass- its length was affecting the Riojas being poured in its wake. Only a few dozen made it to California, so grab it while you can- open one with your grandkids in 30 years and wonder why you haven't been drinking more Portuguese whites all that time. 
Must be 21 years old to purchase. ID is required at delivery or in-store pickup.