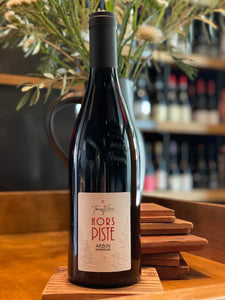 Arbin Mondeuse, Fabien Trosset "Hors Piste" 2019
Regular price $22.00 Sale
The French use Hors Piste as a colloquialism, denoting when someone has gone off road or out of bounds. Traditionally, piste refers to a ski route, which is fitting because the Savoie is literally the base of the Alps, and while tourists flock there in summer to see mountain meadows and visit wineries, winter is when all the snow bunnies come out.
Fabien and his partner Chloé started producing in 2011, and more recently took over some vines from Louis Magnin, one of the most estimable and celebrated producers in the region. That Mondeuse goes into this bottling, which instantly transported us to Arbin. Drinking it is like sitting in one of those mountain meadows with a crisp breeze.
Must be 21 years old to purchase. ID is required at delivery or in-store pickup.