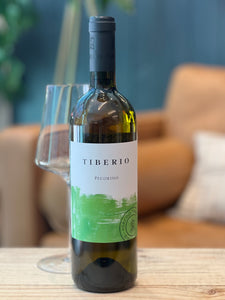 Pecorino, Tiberio 2022
Regular price $40.00 Sale
With experience at Huet and Dujac and her background as a grape geneticist, it's no surprise that Cristiana TIberio is making some of the best wines in Abruzzo, next to Pepe, Valentini, and Compline fave Ciavolich. Pecorino (the variety, not the cheese- more on that later) was on the brink of extinction as recently as the 1970s. It's an early-ripening, low-yielding variety, and although resistant to fungal diseases, many growers switched their plantings to varieties with more profitable profiles. Abruzzans like to call it a mountain grape, but current popularity means it's getting pushed towards the flatter, more fertile ground near the coast. Cristiana is firmly against that trend, as warmer temperatures at lower elevations mean the already rapid ripening happens even faster and phenolic ripeness isn't achieved, only sugar ripeness. Her vineyards are 350-400 meters above sea level in a limestone marl in the hills around the seaside city of Pescaro. Here, the Pecorino achieves that full polyphenolic glory while retaining a distinct seafaring personality. The resulting wine is deeply textural, smokily reductive, and sharply saline. It fits best next to a bowl of spaghetti alle vongole, or really anything out of the Mediterranean.
As far as the name, yes, there is a correlation to the cheese. Because it's such an early ripener, often ready several weeks before the other varieties in the area, historically it would be fodder for the sheep at the time of year shepherds would do their livestock movement. As payment for the lost crop, shepherds would give growers cheese (Pecorino, as pecora is the Italian word for sheep) as payment. And thus, the name is shared.
Must be 21 years old to purchase. ID is required at delivery or in-store pickup.