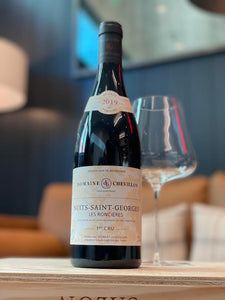 Nuits-Saint-Georges 1er Cru, Robert Chevillon "Les Roncières" 2019
Regular price $185.00 Sale
Producers like Chevillon are exemplary of why we love Burgundy. The idiosyncrasies of each site are readily apparent and detail why site matters. Currently helmed by fifth generation brothers Denis and Bertrand (with some help from their father, namesake Robert), each of their wines are resolutely emblematic of the site from where they come. 
Compared to the Chaignots that we also have, Roncières is more sauvage and minerally. The word ronces translates to brambles, which were rampant in this site before vines were planted, and that history is born out in the glass. There's a lot more gravel in the steep slopes than elsewhere in the village, and the vineyard is wedged directly between Les Porrets Saint-Georges and Les Pruliers, both more famous premiers crus. We only got a few bottles, so stock up your cellar with top of the line Burgundy at middle of the line prices while you can.
Must be 21 years old to purchase. ID is required at delivery or in-store pickup.