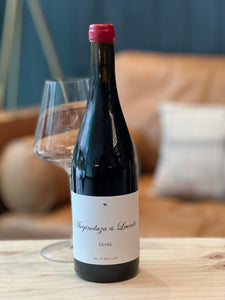 Navarra, Aseginolaza & Leunda "Cuvée" 2019
Regular price $44.00 Sale
Navarra, Rioja's northeastern neighbor, once churned out oceans of Garnacha rosé. In recent decades, Tempranillo plantings surged, replacing Garnacha by the turn of the millenium as red wine production increased. With luck, some of the region's oldest Garnacha vines remained! (Perhaps rosé drinkers unwittingly enabled their survival, as domestic white Zinfandel drinkers aided the continued existence of old vines in our country...)

Environmental biologists Jon Aseginolaza & Pedro Leunda came onto the Navarra wine scene in 2017, committed to finding and recovering the region's oldest Garnacha vineyards. They made this Cuvée from 88% Garnacha, blended with a little Tempranillo, sourced from old dry-farmed Navarra bush vines. It's everything you want great "Grenache" to be—full-bodied, savage, garrigue-y, dark-fruited. About 160 cases made. We love it. 
Must be 21 years old to purchase. ID is required at delivery or in-store pickup.