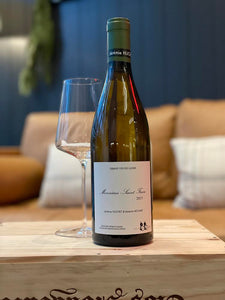 Muscadet Sèvre-et-Maine Monnières Saint-Fiacres, Les Bêtes Curieuses 2015
Regular price $25.00 Sale
Monnières Saint-Fiacres is one of 10 cru communaux within the broader Muscadet Sèvre-et-Maine appellation. It sits literally at the heart of the region, wedged between the confluence of the Sèvre and Maine rivers, both tributaries of the Loire. Its sloping hills are comprised mainly of decomposed gneiss, one of the dominant soil types in the area but particularly prevalent here, and the wines tend towards succulence and a pleasant bitterness. 
Les deux Jérémies (Monsignors Huchet and Mourat) each run wineries of their own but joined forces in 2005 to form Les Bêtes Curieuses over a shared love of organic viticulture and extended lees aging (over 5 years for this wine!). Huchet's friendship with the estimable Marc Ollivier of Domaine de la Pépière fame led to access in to fruit in some of the best plots in the region. 
Many people might raise their eyebrows at drinking a sub-$25 white wine with more than 7 years of age, but this is full of pleasures. Mouth-filling, waxy, and stony. We love nerding out over the crus of Muscadet and we invite you to join in on the fun.
Must be 21 years old to purchase. ID is required at delivery or in-store pickup.