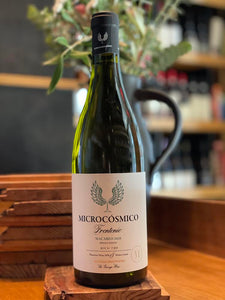 Macabeo, Frontonio "Microcósmico" 2020
Regular price $25.00 Sale
Spain is the world's largest vineyard, with more vine acreage than any other country. A lot of the grapes are destined for brandy production, but the reality is sprawling swaths of land across Spain are dedicated to the vine, and there are exiting projects popping up from unexpected corners. One of those is Valdejalón in Aragón, to the southeast of Rioja. The preferred red variety here is Grenache, as the terrain is more impacted by the Mediterranean than the Atlantic. However, Macabeo (aka Viura) is the reigning white grape across northeastern Spain. 
Fernando Mora left his job as an engineer to delve fully into wine, and not only turned a bathtub winemaking operation into one of the hippest labels in Spain, but also passed the rigorous Master of Wine examination. He works with Mario López to engineer wines sizzling with personality. Their Microcósmico Macabeo is a terrific example of this oft-uninteresting variety, full of green fruit and a tangy acidity. A great match for chicken in a coconut curry.
Must be 21 years old to purchase. ID is required at delivery or in-store pickup.