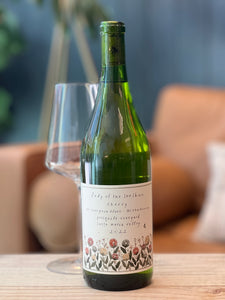 Lady of the Sunshine "Chevey" 2022
Regular price $37.00 Sale
Dedicated fanatics of the Loire are familiar with Cheverny, an appellation where the world's two most popular white varieties are blended together. Gina Giugni pays homage with her "Chevey" bottling, comprised of 60% Sauvignon Blanc and 40% Chardonnay. It's a new bottling as of 2022, with fruit from the Presqu'ile Vineyard in the Santa Maria Valley. Gina is one of our favorite new wave California producers, with an admirable attention to detail and eco-friendliness in everything she does, from farming her Chene vineyard in the Edna Valley regeneratively to the glass she bottles her wine in to her handwriting on the labels. 
Chevey is a welcome addition to the fold, refreshing and tropical, impactful on the palate without being weighty. It's the perfect summertime wine.
Must be 21 years old to purchase. ID is required at delivery or in-store pickup.