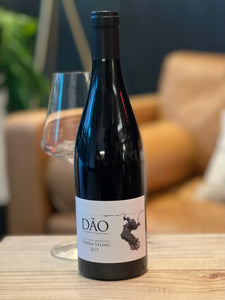 Dão Tinto, Antonio Madeira "Vinhas Velhas" 2019
Regular price $42.00 Sale
Cheese aficionados and skiers (yes, there's skiing in Portugal) may be familiar with the Serra da Estrela mountain range, but even most serious students of 
wine
aren't familiar with this subregion of the Dão. Part of this is due to inaccessibility, as even the biggest city in the region doesn't have so much as a train station. It's also due to vineyard fragmentation. Most of the ~100,000 growers have little more than a front yard for a parcel of vines, and production historically was often limited to co-op.
António Madeira is actually a native Frenchman, born and raised in Paris to parents from the Serra da Estrela, where he would holiday every summer growing up. He got his
wine
making start by driving around mountain villages and knocking on doors, trying to find abandoned old vineyards he could rent and farm. A day job and a family in Paris meant farming 26 tiny sites on weekends in the Dão wasn't realistic, so he became a full-time
wine
maker in 2017. The Frenchman is still regarded as something of an outsider in rural Serra da Estrela, but he's made a positive impression at Compline
Wine
Shop with his supple and summery reds. The
Vinhas Velhas
is comprised of more than 20 varieties in a classic Portuguese field blend.
Must be 21 years old to purchase. ID is required at delivery or in-store pickup.