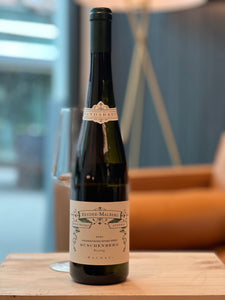 Riesling, Veyder-Malberg "Ried Buschenberg" 2021
Regular price $172.00 Sale
Quite simply, Peter Veyder-Malberg is making some of the most exquisite and distinctive wines anywhere in the world. He spends his time having full on conversations with the mushrooms and mycorrhizal fungi that live in his vineyards. It might seem quirky, but it highlights the attention to detail and slight craziness required to make wines that we consider as good as any from any other iconic region. And the Wachau is no slouch in that regard, a UNESCO heritage site about an hour west of Vienna. 
Weißenkirchen the village is most famous for Ried Klaus, which is directly west of Ried Buschenberg. Klaus protrudes further out of the hillside than Buschenberg, meaning early shade for the vines and more direct morning sunlight, typically indicative of wines of freshness and grace. The 2021 Buschenberg is no different, but it's still intense and powerful in flavor, almost reminding us off Hatzidakis Assyrtiko with its tropical salinity. It will age for decades.
The fastidiousness in the winemaking is remarkable here. Peter wants to avoid malolactic fermentation in his Rieslings most of the time, thus giving way to his bracing, severe styles of wine. To achieve this he does a sterile filtration to remove any potential lactic acid bacteria, rather than the normal method of dosing a wine with sulfur prior to malo. It might be a no-no in the "natural" wine world, but Peter is making wines of finesse and precision and they're always technically sound. Grown on mica schist, aged in large Stockinger acacia barrels.
Must be 21 years old to purchase. ID is required at delivery or in-store pickup.