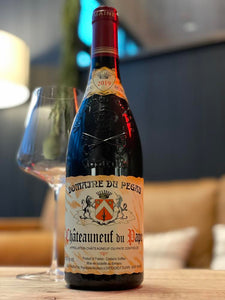 Châteauneuf-du-Pape, Pegau "Cuvée Réservée" 2019
Regular price $95.00 Sale
Budding sommeliers are often asked what the 13 grape varieties permitted in Châteauneuf-du-Pape are. Well, there are actually 18, as three different shades of Grenache and Picpoul are allowed, as well as both white and pink Clairette. Pegau's flagship bottling includes all of them, albeit most in trace amounts.
The Feraud family has a history of growing grapes in the area dating back four centuries, but it's only with father-daughter team Paul and Laurence that they've come into their own as winemakers. Over the past 35 years under Laurence's guidance they've become one of the pre-eminent estates in the Southern Rhône. 2019 was a year in which everything was to the max in Châteauneuf- tannins, sugar, color, acid. Those conditions play out in the bottle here, as this is a fully textured wine with just a touch of animale rusticity lending it charm. Decant now or enjoy over the next two decades.
Must be 21 years old to purchase. ID is required at delivery or in-store pickup.