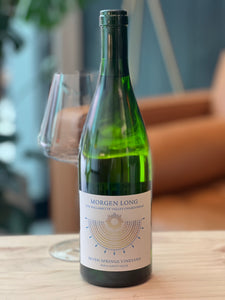 Chardonnay, Morgen Long "Seven Springs" 2020
Regular price $87.00 Sale
The wine world definitely doesn't need more sommeliers turning into winemakers, but if they make wines at the level Morgen Long does that wouldn't be such a bad thing. He makes wine in the Roulot style (i.e., crazily reductive, but with the stuffing to back all that reduction up), and his 2020 Seven Springs is a showstopper. It struts in the room and you know who's boss right away. Long, salty, citrusy, and with a percolating acidity, it will impress even your most haughty Burgundy-loving friends. 
As a side note, Seven Springs is managed and farmed entirely by Raj Parr and Sashi Moorman of Evening Land Vineyards and Californian fame. 
Must be 21 years old to purchase. ID is required at delivery or in-store pickup.