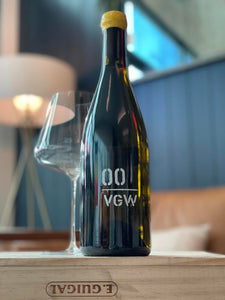 Chardonnay, 00 Wines "VGW" 2019
Regular price $82.00 Sale
00 only released their first wines with the 2015 vintage, but as relative newcomers they've certainly created quite the splash, with a best-Chardonnay-made-in-America stamp of approval already and a lengthy waiting list. Why? Because if you like reductive Chardonnay à la PYCM, they're making it. Chris Hermann grew up in Oregon learning from his father, a plant geneticist at Oregon State University, before spending three decades as a lawyer, most often hammering out deals on vineyard sales. These experiences gave him an in-depth understanding of the important vineyard sites in the area, and he slowly began accumulating a star-studded list of source material- Seven Springs, Hyland, Eola Springs, etc. 
To make good wine, though, you need more than good fruit. Chris and his wife Kathryn reached out to Pierre Millemann, an Alsatian-Breton consultant at small up-and-coming wineries such as DRC, Gaja, and Domaine Dujac, who's led them down the brown-juice-makes-healthy-and-reductive-Chardonnay plan also followed by Coche-Dury and Roulot. How does it work? Chardonnay is picked ripe, foot-crushed and macerated overnight, then pressed hard and put into tank (and barrel for ferment shortly thereafter) brown. The goal is to give the juice as much exposure to oxygen as possible early (so it goes unsulfured at this stage) to extract heaps of phenolics. When those oxygen-guzzling phenols settle out, they take all the brown color and oxidation with them, while still imparting texture and flavor. Crazy, right?
VGW (Very Good White) lives up to its name. Long, rich, and ripe, it walks the delicate balance between smoky reduction and textural roundness that only the best white Burgundies can. Gobble this up before the wines become priced like the best white Burgundies. 
Must be 21 years old to purchase. ID is required at delivery or in-store pickup.