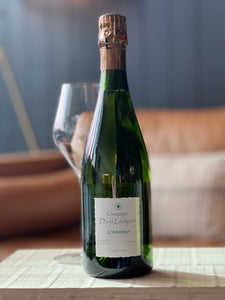 Champagne, Léclapart "L'Amateur" Blanc de Blancs Extra Brut NV
Regular price $125.00 Sale
We generally associate the Montagne de Reims with Pinot Noir. Burgeoning star David Léclapart is based in the village of Trépail, which shares the southeastern exposure of the Côte de Blancs, allowing it to successfully ripen Chardonnay. His wines have gained somewhat of a cult following, which when combined with minuscule production means they're very hard for wine shops like us to get our hands on. We were ecstatic to be offered any (only this bottling, and just a few bottles at that), and even more ecstatic to be able to taste some.
Peter Liem calls Léclapart's wines "uncompromisingly individual", and we'd have to agree. It's perplexing, really. On the nose oxidative aromas dominate, and at first sip it feels powerful and dense, but the back end gives way to almost Basque cider-esque notes. There's a really pronounced core of fruit sandwiched between that nutty, oxidative nose and cidery finish. We just wish we got more. 4g dosage. 
Must be 21 years old to purchase. ID is required at delivery or in-store pickup.