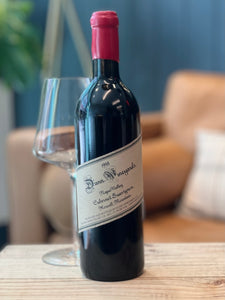 Cabernet Sauvignon, Dunn, Howell Mountain 1998
Regular price $400.00 Sale
1998 was a difficult year for the Dunn family and declared a washout vintage across Napa by the press. This is one of the most difficult vintages of Dunn to find, and patience and belief have paid off. Structured, herbal, and outstanding now. Tasted with Mike Dunn on August 9, 2023.
Provenance of the Compline Dunn Collection:
These bottles were stored at the winery from the moment they were bottled and are in pristine condition with perfect fills. Prior to arrival in our cellar earlier this year, the 1991-2008 Dunn collection never moved from its cellar of origin. 
Must be 21 years old to purchase. ID is required at delivery or in-store pickup.