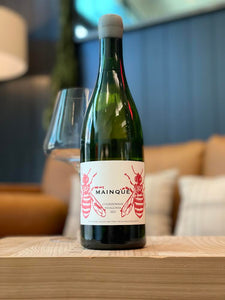 Chardonnay, Chacra "Mainqué" 2021
Regular price $64.00 Sale
To the outsider, Patagonia must feel like the end of the Earth, a barren landscape where viticulture is heroic. In reality, it's a massive GI (Geographic Indication), stretching 680 miles from north to south, covering the Andes in the west and the Atlantic in the East and everything from glacial lakes to major cities to dense forests to ski resorts in between. 
The Río Negro is where most serious Patagonian winemaking takes place, as evidenced by the presence of the legendary Jean-Marc Roulot and Piero Incisa della Rocchetta's presence here with their Bodega Chacra project. Again, the river valley is actually closer to Buenos Aires than it is to the southern tip of the continent. In that light, it doesn't seem as extreme for grapes to be growing here. Río Negro was essentially the Argentinian version of the Wild West, where in the late 1800s the native people were more or less forcefully relocated into the Andes. The river itself was channeled in 1910 and has been used as an irrigation source for the European settlers since.
A century ago there were about 100 wineries here, but now that number is closer to 20. We're lucky Roulot and della Rocchetta are among those producers. Chardonnay from Roulot has a magical appeal too it, whether in Meursault or Mainqué. The 2021 is weighty and round with the hallmark reductive aromas of Roulot's winemaking style. Ultimately, though, it's carried by a streak of freshness. It's a wine that seems to do the impossible and be defined by two opposing styles, something only the very best wines in the world can do. Take a journey south!
Must be 21 years old to purchase. ID is required at delivery or in-store pickup.